I love making a difference in the world.
Sharing what's important in our complex world doesn't mean a thing unless a reader can quickly engage with a story.
I use my writing, video, and digital media skills to grab a reader or viewer right away. Compelling copy or a brief video allows me to easily share important health, medical and scientific information with my audience.
Clear and Engaging Content
Trained as a science, health and medical reporter, I'm happy my skills work for digital media and content marketing too. In addition to traditional journalism, I have experience writing web copy, CEO speeches, social media posts and more. No two days are ever the same.
I'm one of those fortunate people who loves what they do for work.
— Damian McNamara
Here are examples of my writing:
Lies and Desperation: How, Why 'Professional Study Subjects' Skew Clinical Research
Damian McNamara July 14, 2020
When a clinical study on asthma launched in late 2019 in Louisiana, Patricia M. (not her real name) signed up. But she was not completely honest about her eligibility.
"One of the criteria was you can't have taken prednisone steroids in the past two or three weeks. But I actually had taken prednisone a few days before, so I lied and said I hadn't," she tells Medscape Medical News. Otherwise, she says, "that would have put me out of the study."
For another study, on severe allergies and nasal polyps, Patricia omitted her medication history.
"They were testing different nasal sprays to see how well they would shrink nasal polyps. They wanted to try Nasacort [Sanofi]. I was actually already using Nasacort, but I told them I wasn't," she says.
"I didn't feel good about it. I'm usually an honest person," she adds. "But the study paid $400."
Researchers checked her driver's license, required a note from her physician, photos of her prescription medications, and requested permission to access her health portal. "If you don't have asthma, diabetes, or hypertension, you're not going to be able to fake it and get into a study," Patricia says.
For researchers, these so-called 'professional study subjects' are much more than a nuisance. Their deception can ruin the chances of an otherwise effective agent reaching the market, potentially dashing the hopes and jeopardizing the health of real patients living with a variety of acute and chronic illnesses.
Brain-Controlled Exoskeleton Aids Walking in Tetraplegia
A 28-year-old man with limited arm movement following a severe cervical spine injury can now move his arms in multiple directions and walk using an exoskeleton suspended from the ceiling.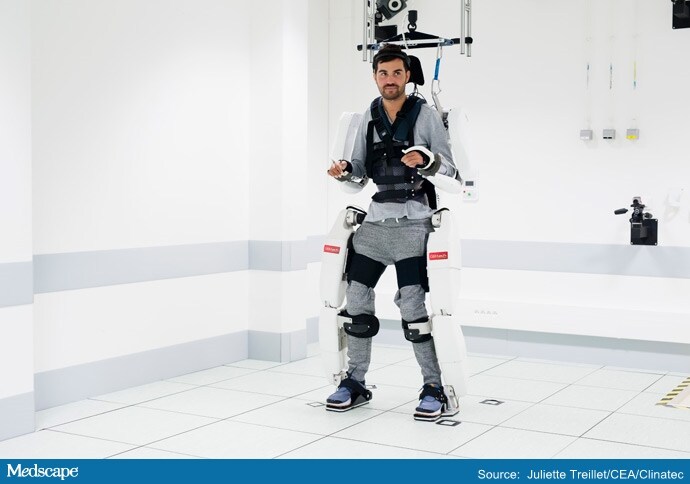 The bilateral implantation of wireless recorders above the sensorimotor cortices of his brain and the decoding of epidural electrocorticography data that were generated enabled these accomplishments.
Bankrupt Hospital Leaves Physicians, Nurses in the Lurch
Hahnemann University Hospital has been an institution for 171 years in downtown Philadelphia. The level I trauma center, medical training facility, and public "safety net" hospital has been in continuous operation since 1848.
That could all come to an end soon. For the physicians, nurses, and staff who considered Hahnemann a "second home" for years, the impending closure of the hospital on September 6 after it filed for bankruptcy has left many facing a high level of uncertainty.
The situation is having a ripple effect throughout the area and took on an even greater sense of urgency Thursday after an announcement reported by local media from Philadelphia's Drexel University — whose College of Medicine relies on Hahnemann as its teaching hospital — that it will have to eliminate about 40% of its physicians and clinical staff.
Driving High Common in Pain Patients Taking Medical Marijuana
Driving under the influence of cannabis is common among patients prescribed medical marijuana for chronic pain, in findings investigators describe as "concerning."
A study of nearly 800 individuals prescribed medical marijuana showed more than half reported driving within 2 hours of use. About the same proportion said they drove "a little high," and about one in five reported driving "while very high."
"I was particularly interested in understanding how people using [cannabis] medically may also be engaging in this risky behavior," Erin E. Bonar, PhD, University of Michigan Addiction Center and assistant professor of psychiatry at the University of Michigan School of Medicine in Ann Arbor, told Medscape Medical News.
"I wanted to see what people are doing [and] how often they are doing this," Bonar added. "We found a pretty concerning rate."